MAIN
SERVICES
LANDSCAPE IMAGES
BEFORE AND AFTER
ABOUT US
CONTACT
Orlando Landscape Lighting Services
featuring Lifetime Warranty
Energy Efficient, Low Voltage Landscape Lighting

As you have come to visit our Orlando landscape lighting webpage you may be considering upgrading your existing landscape lighting system in Orlando or Central Florida or installing your first landscape lighting project.



The benefits of installing a landscape lighting system are numerous, the welcoming glow as you return to your home, commercial property or other property that you may own provides a sense of comfort. Additionally, your landscape lighting will give the appearance that the home is active, cared for and lived in, a sense of warning to deter any foul play. Crime Prevention Through Environmental Design, or CPTED principles cite proper lighting as a primary deterrent to residential crime. Adding a modern landscape lighting system is a smart investment in your quality of life and your property value. A thoughtfully designed and skillfully installed landscape lighting system will showcase your home.



At Landscapes by Land Art we offer line voltage landscape lighting systems or low voltage landscape lighting. Contemporary low voltage landscape lighting systems are offered in twelve or twenty four volt capacities. The unique landscape lighting system is our preferred system, offering a lifetime warranty if installed by a certified contractor who will submit your warranty paperwork and a schematic plan upon completion of your job. Unique landscape lighting will keep your paperwork on file in their offices, readily available in the rare instance that there are any problems with your fixtures or system. A simple change of bulbs is all that is typically needed when using Unique brand landscape lighting products on your Orlando landscape lighting project.



It is our experience that homeowners that install landscape lighting enjoy extended hours using their outdoor living and entertainment areas. Additionally, a well thought out landscape lighting system allows homeowners the ability to enjoy their landscape investment as viewed through their windows from inside of their home. In Orlando and throughout the state of Florida where palm trees are used in the landscape, interesting shadow patterns will dance on your architectural features providing the ambiance of a tropical resort.



Shall you select Landscapes by Land Art to be your Orlando landscape lighting company of choice we will meet with you to discuss and evaluate your landscape lighting needs. Our educated and experienced landscape lighting designers will create a landscape lighting plan customized to the architecture of your residence or building and to your lifestyle. Once your landscape lighting plan is complete we will set up a temporary landscape lighting demonstration at your residence. We will discuss your thoughts and opinions on the way that the light is cast upon your landscape and architecture, adjust the demonstation system until you are satisfied with the landscape lighting effects that are being produced. The adjustments that we make may involve relocating fixtures, switching lenses or changing the landscape lighting bulbs. Your landscape lighting plan will be marked with the adjustments, we will then provide a detailed proposal listing the fixtures and the cost for the system that we have designed together. Upon your review, adjustment and acceptance of the proposal, we will execute it as a contract, a fifty percent deposit will be required at this time, and your landscape lighting system will be scheduled for installation.



You won't have a long wait for your landscape lighting installation. We will take approximately two to five days to assemble your Orlando landscape lighting system, once all materials are assembled into a kit that is custome created for you, we will arrive at your property and begin the installation. Typical installations will take one to two days to install depending on the amount of fixtures and complexity of the installation required. Upon completion of your landscape lighting system by our landscape lighting professionals, we will meet with you once again for any final adjustments and to walk you through the operation of your new Orlando Landscape lighting system. Final payment is due upon acceptance of the project, which is typically at the final walk through and training session.



When the installation is complete and we leave your property, we will finalize your lighting as-built drawing and submit it along with the appropriate paperwork to the lighting manufacturer to ensure that your warranties are in place. The lighting manufacturer's representative will review our documents and installation and in most case will visit the site to experience your new landscape lighting installation. Although it is our experience that the quality landscape lighting products that we use rarely require any warranty attention due to their durability, you will have peace of mind knowing that this is the last time you will pay for landscape lighting.



Our landscape lighting designers will use various fixtures and techniques when designing your Orlando landscape lighting system. We will strive to prevent hot spots or blinding streams in your new landscape lighting system. We will skillfully design your lighting system to be out of sight during the day time and the showcase in the evening hours. Our skillfull placement of fixtures in your grilling area will provide trouble free grilling options in the winter months when the sun sets before you come home. We may use down lighting or path lights and fixtures to provide a wash of shadow patterns on walkway surfaces. Our backlighting techniques will provide enjoyment of your landscape from inside your residence.



You may select to add a remote control to your new landscape lighting system. As your system will most likely be equipped with a photo cell and a timer, it may be asleep in the late evening and early morning hours. Shall you need to go outdoors during this time you simply will turn your system on from any outlet in your home. Some clients choose to have two remote controls so that they may have one handy at all times in case a cat fight or other noise should occur.



If you are contemplating a remodel of your landscape lighting system you may find extra time on your hands after your new system is in place. As the fixtures and transformers that you may have purchased from a home improvement warehouse do not come with a warranty, and rarely last more than a few month before their trouble begins. Landscape lights that are purchased from home improvement warehouses typically do not have a gasket seal that is water tight and ressistant to the elements.



The contemporary landscape lighting systems that we use are designed to distribute power evenly throughout your new landscape lighting system. This system of hubs ensures that each light is delivering power evenly preventing the loss of power that occurs over the length of a line that is typically of do it yourself systems. What this means is that every light on your new landscape lighting system will shine according to its design specification, with no dim fixtures. Our landscape lighting professionals will bury your low voltage landscape lighting lines at a depth to be away from the harm of squirrells or landscape maintenance crews.



As with any landscape lighting system you may need to inspect the lense regularly to remove falling oak leafs and other debris from blocking the delivery of light to your landscape. This removal can easily be performed with a landscape blower set on low speed. If you use an outside landscape maintenance professional, you may want to instruct them to do so as part of their regular routine.



You may not know that modern landscape lighting systems are environmentally friendly. The warranty that will be in place on your new system will prevent the disposal situation that regularly occurs with home improvement warehouse fixtures. Your transformer will be a high efficient power house with controls to regulate the steady stream of low voltage power to your fixtures. Steady delivery and low voltage are both efficient methods of delivering electricity. Additionally, you will be providing a small source of heat to the lizards and geckos that reside in your garden on our slightly cold winter nights. You may not know that these creatures are powerhouses at consuming ants and other small insects. In Orlando, landscape lighting systems are also a source of protective heat for collectors of cold sensitive plants. Quilting on our rare cold nights will help to keep the heat in and protect your prized rare tropicals.

As you select your Orlando and Central Florida landscape lighting company please be sure to read the fine print. Our competitors will offer you a lifetime warranty as long as you enter into a maintenance contract with them. The lifetime warranty that is offered to you when you select the Unique brand of landscape light fixtures is provided by the manufacturer with no strings attached. It would be senseless for us to push a maintenance agreement upon our customers for a product tha already carries a lifetime warranty. Some landscape lighting companies will offer a twenty five year manufacturer's warranty on fixtures and a lifetime warranty on the installation, once again, if you enter into a maintenance agreement with them, double dipping into your landsape budget. We would rather offer you a quality product that is professionally installed to manufacturer's specifications and then file your warranty paperwork so that if you every have a problem, the manufacturer will back the installation and the product.



Landscapes by Land Art hopes that your visit to our Orlando Landscape Lighting web page has been informative and educational. Please don't be afraid to pick up the telephone to discuss any landscape lighting questions that you may have with us. Florida cities and municipalities consider landscape contractors to be "minimally competant" to insall low voltage landscape lighting systems, and are licensed through their landscape contractors license to install low voltage landscape lighting. Shall you choose to install linve voltage landscape lighting, you may contact us to speak to our Florida Licensed Electrician. Please do not be pressured into selecting a landscape lighting contractor without researching all of your options.



Services By: Grayford Electrical Contracting
Thomas J. Grayford EC0002610



Click here to go back to previous page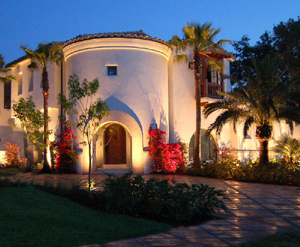 Architectural wall wash lighting gives this Lake Nona Home a spectacular glow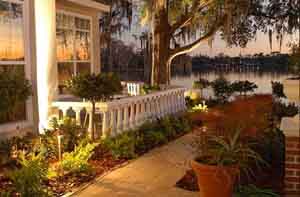 Pathway lights providing a soft glow in this Orlando landscape lighting project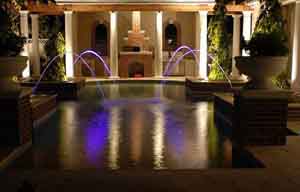 This swimming pool and summer kitchen in Winter Springs Florida is greatly enhanced through the use of landscape spot lights on the columns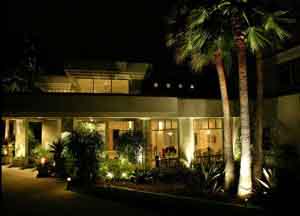 This contemporary residence in Orlando Florida uses landscape lighting techniques to highlight the entry and selected palm trees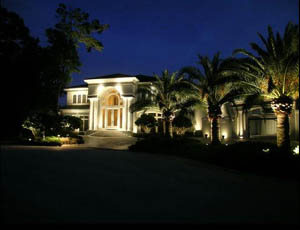 Landscape lighting installed on a residence in Windermere Florida allows the entry to this large home to stand out and the remainder of the building to recede into the darkness beyond.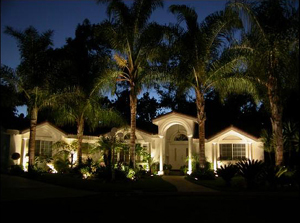 Our Winter Park Landscape Lighting company professionals installed landscape lighting to deliver a consistant bright glow according to the owners request



Orlando commercial landscape lighting installed on an entry to a Gated Community.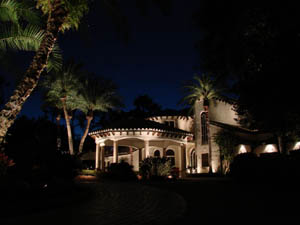 Various uplighting and downlighting techniques and fixtures were used to light this large oak tree in Orlando Florida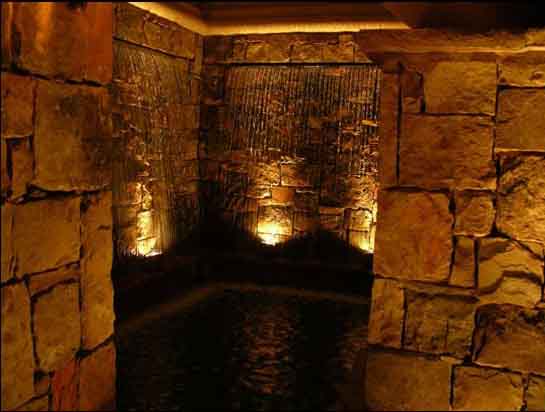 Lighting a water feature utilizes various techniques to achieve different light patterns in this Orlando Florida water feature.